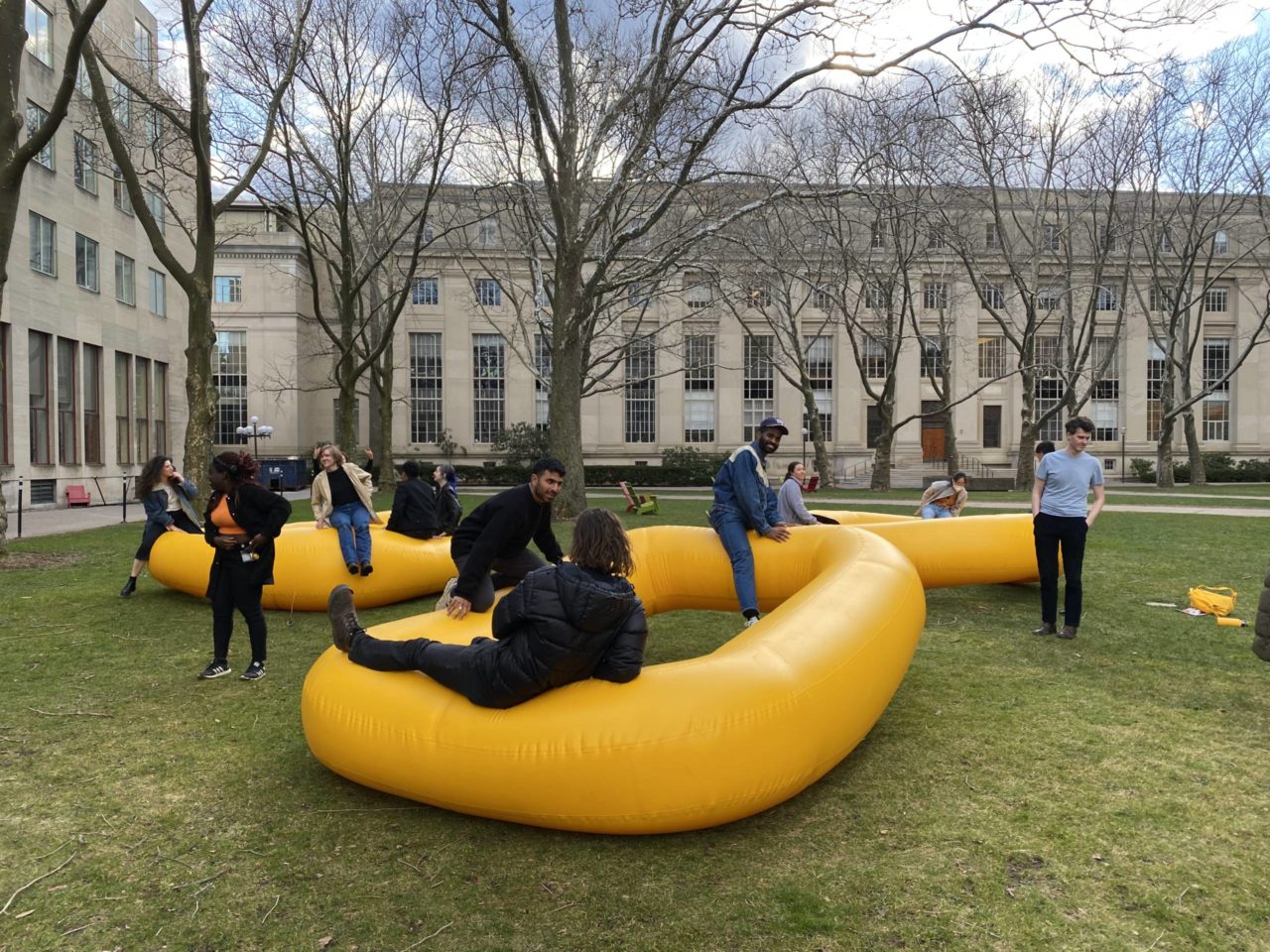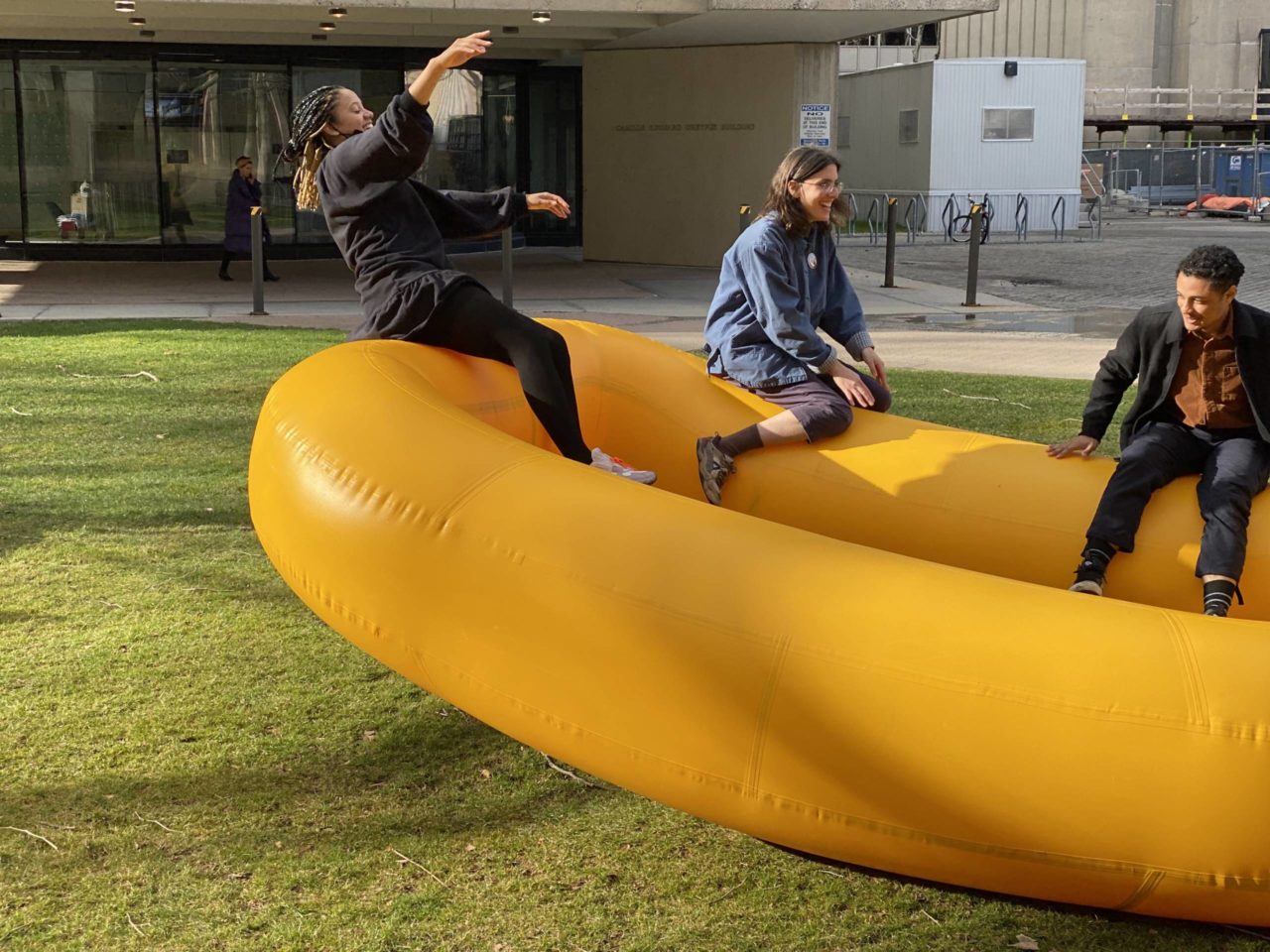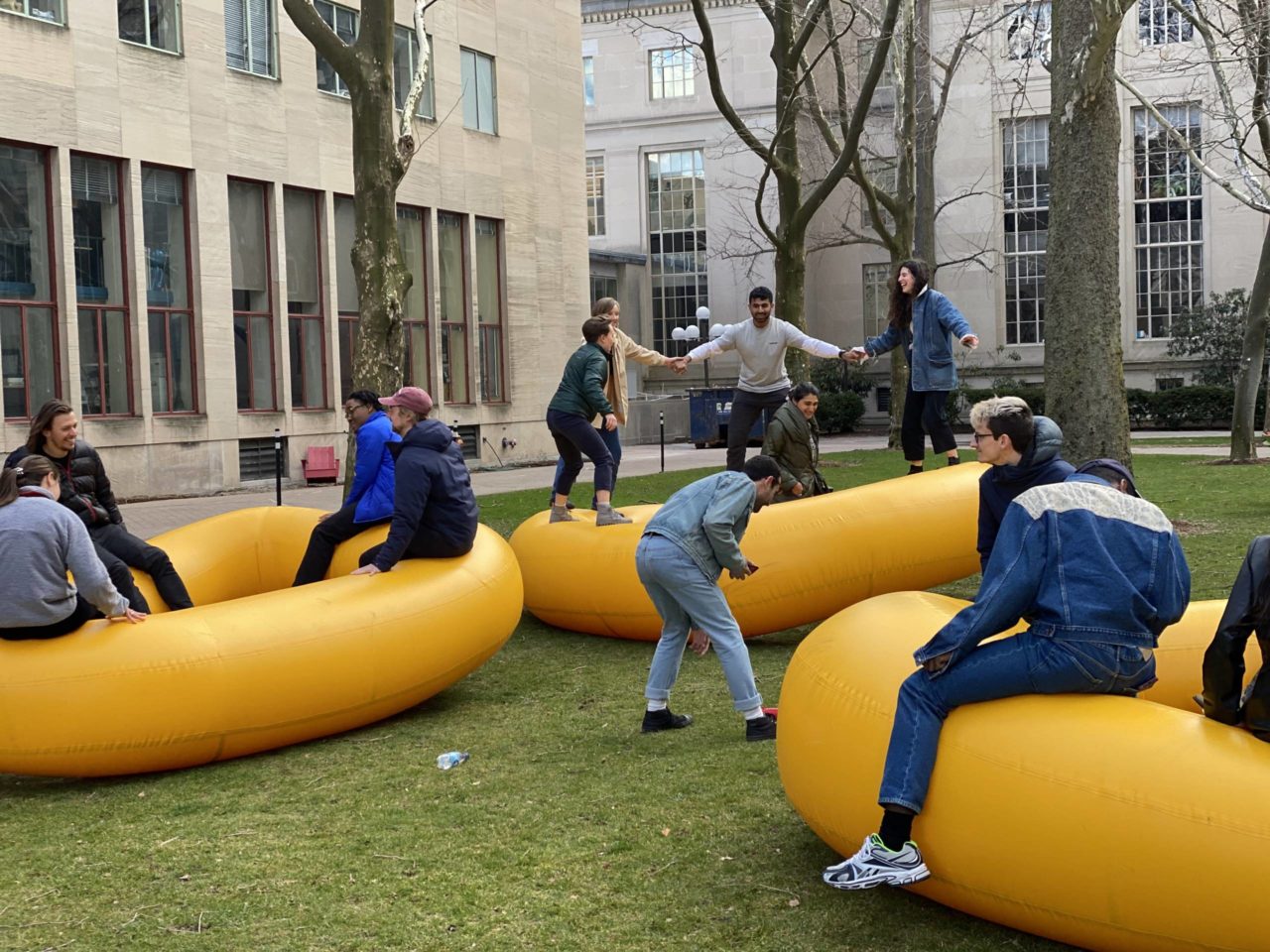 See Us Seesaw
Imagine a field of shiny large collective seesaws. We first gather to inflate them and then we play. When you sit, I bob up. When our friend to the left lands on her portion of the seesaw, from a bit higher than she would drop onto a chair, we all bob up and laugh. In the era of Covid, these blow-up seesaws will acknowledge the 6-foot distance, but allow for an embodied comprehension of another's presence and cooperation. This spring, we deployed a prototype family of collective seesaws on MIT's campus at an event co-hosted by student-run WhatAreWeDoing? Radio. We hope that this reciprocal game of feeling each other's presence—seeing us all seesaw—will enable both a physical and a visual confirmation of togetherness.
A collaboration between CBL and Pneu.haus
Supertall Tetris is a critical game of stacking tetrominos of New York's super tall buildings into a 2 dimensional width of Manhattan at 57th street.
You can rotate, speed up, as well as flip facades of a series of 19 buildings developed in New York since 2000, ten of then over 1000 feet tall. We included BIG's Via 57 West because it seemed to follow some of the same financial logics, even if not all the now widespread supertall machinations with air rights. We also included buildings from Trump's empire as precursors of the pencil towers, and of course New York's original (1931) supertall: the Empire State building. With each new building tetromino descending, the game lists basic information on its architect, developer, engineers, contractors (where available), building height, as well as the financial information we were able to comb from different property renting and selling websites. The profit line here is indeed an absurd(ist) approximation of rent/sq foot sum, sometimes based on exact data other times interpolated from values we found in the area, and our ability to assess the square footage of the buildings.
Following the logic of tetris, the game asks its players to eliminate lines, though "the house"—developers' bottom line—inevitably wins as the New York Skyline fills up impossibly. Still, we hope you enjoy playing CBL's Supertall Tetris, and get a little more curious (or madder) about it all every time you do.
Developed by Ous Abou Ras
CoC
Mpho Matsipa (10/14/21)
Mpho Matsipa is a design educator, researcher and curator based at WiSER, at the University of the Witwatersrand, South Africa. She is the founder and curator of African Mobilities, an itinerant multi-media, multi-year , curatorial and experimental research and teaching platform, podcast series and pan-African network for African designers, artists, and urban theorists. As a curator of exhibitions and discursive platforms, she has been responsible for Studio-X Johannesburg (GSAPP) and the South African Pavilion at the XI International Architecture Exhibition, Venice Biennale (2008). Working both within and outside of formal institutions, she has cultivated spaces that promote the discursive mobility and creative exchanges between artists, urban researchers within African and the global diaspora.
Mpho is currently a Loeb Fellow (2022) at the GSD, Harvard University.
Petrotopia, a sonic experiment done in collaboration with Olalekan Jeyifous, Wale Lawal and Dani Kyengo O'Neill. Presented as a companion piece to Liquid Geographies, Liquid Borders at the 17th International Venice Architecture Biennale.
Click here for more Conversations on Care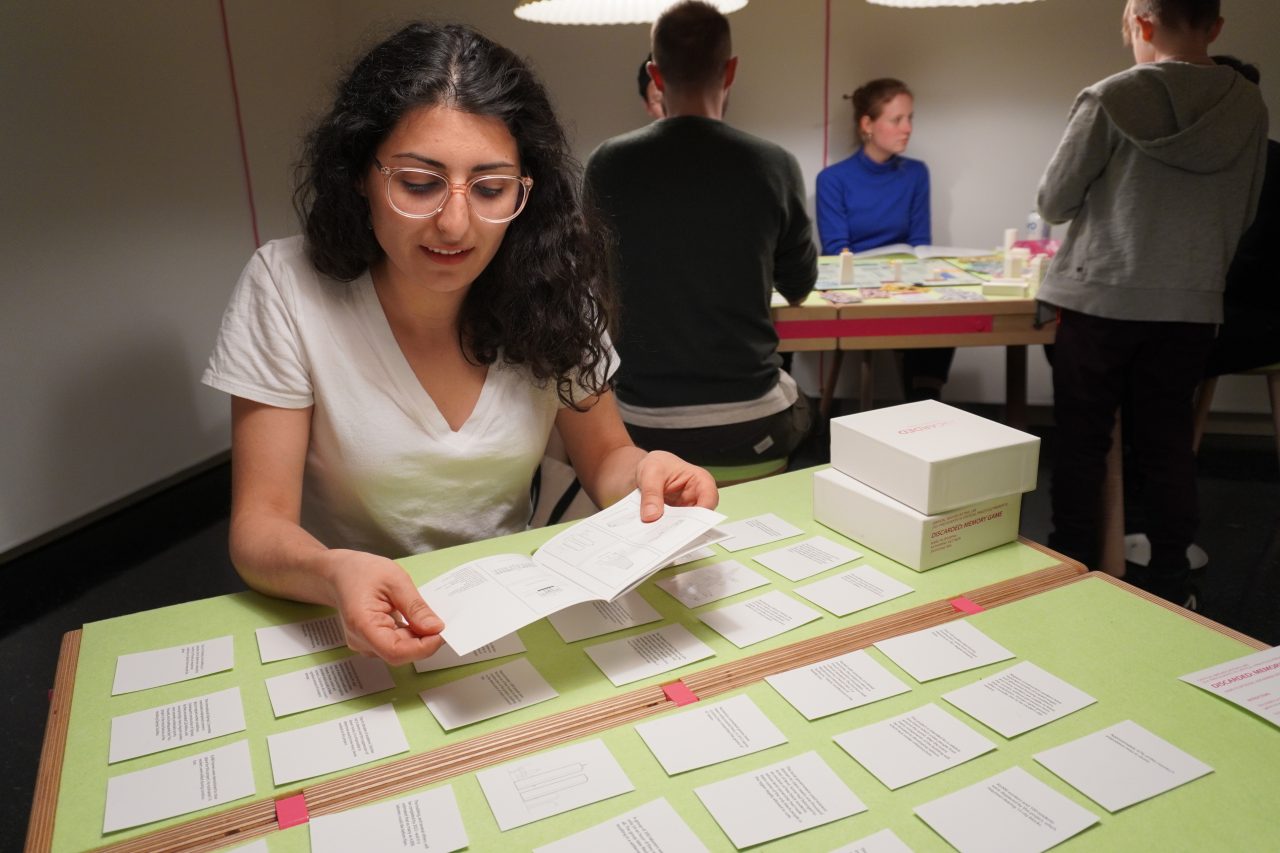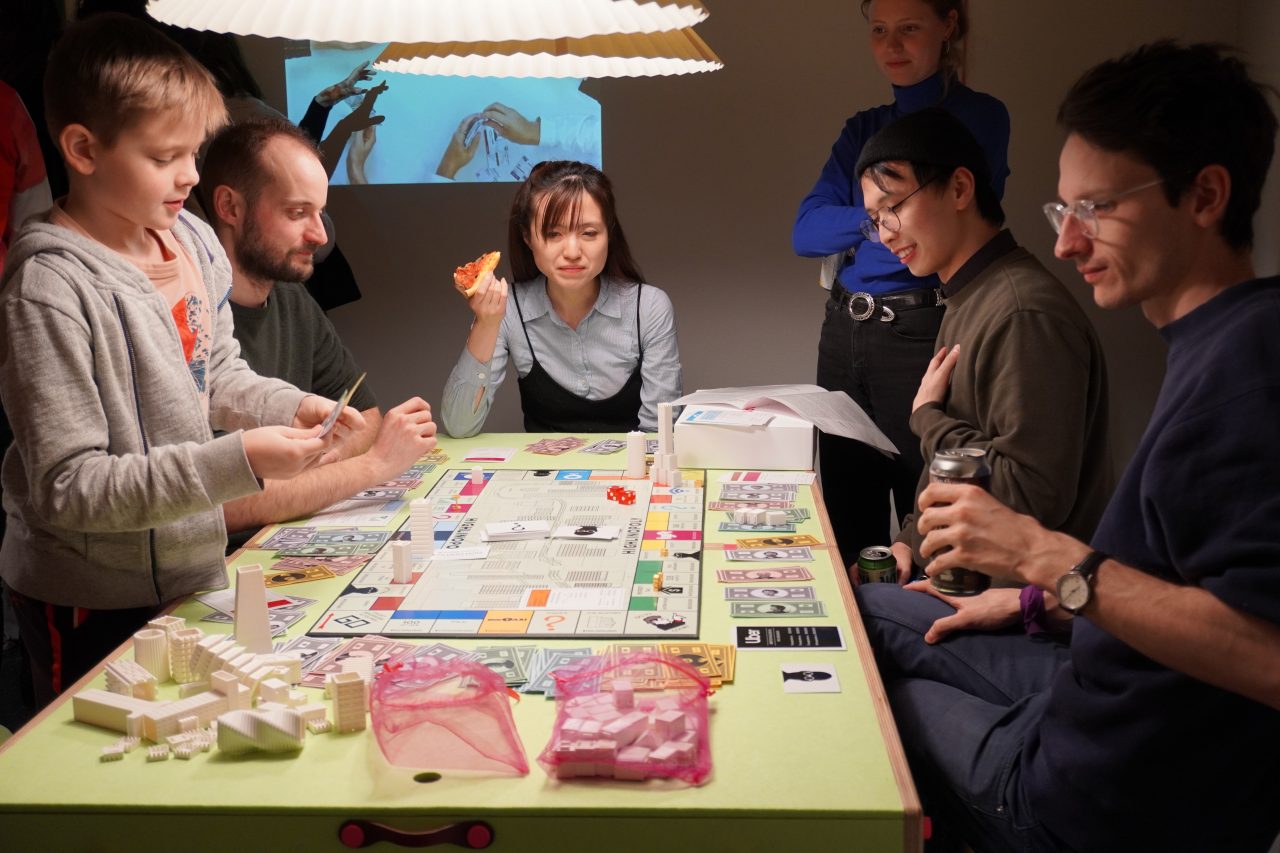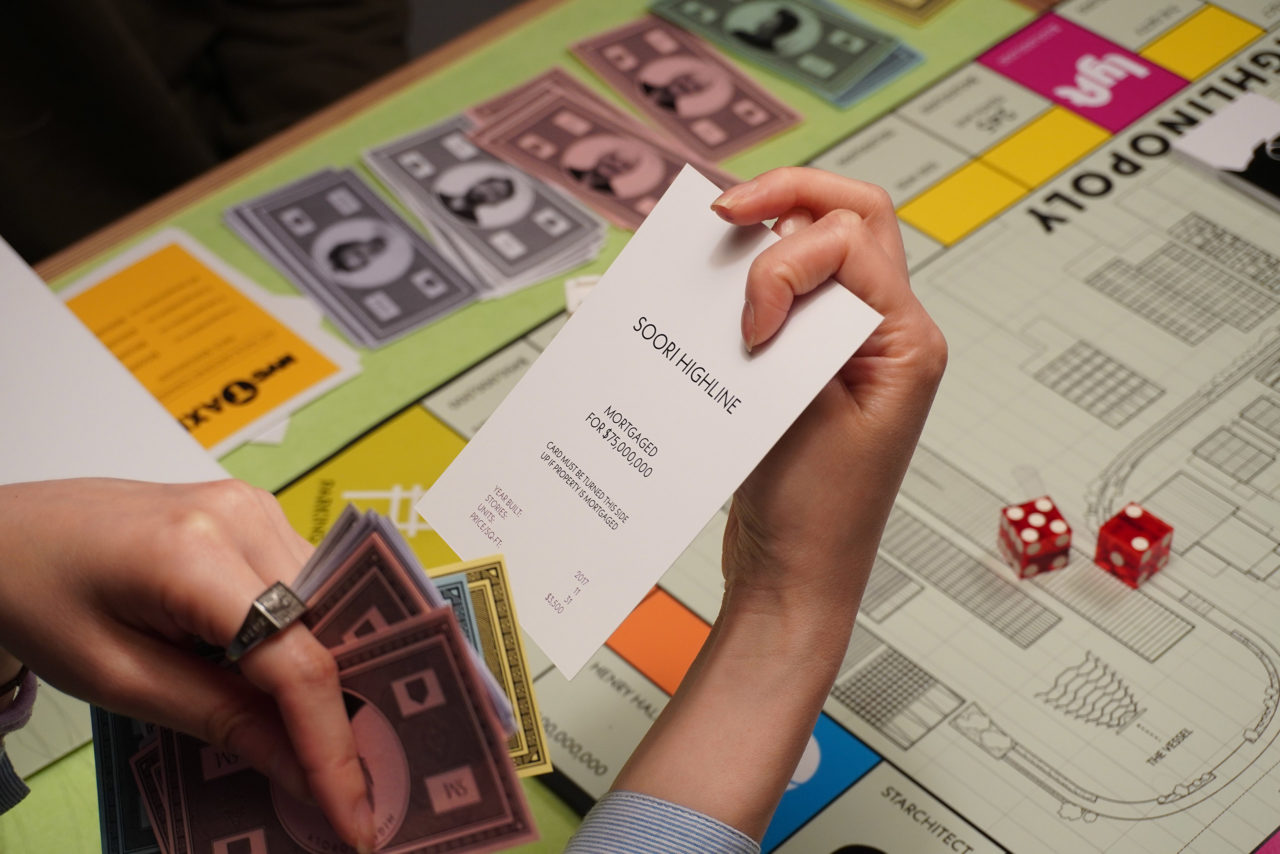 Play Room invites its guests and participants to embrace the youthful abandon that accompanies play, though it is, at the same time, a space of protocol. Its gaming tables follow in a long lineage of furniture that has defined the military encampment, the Victorian-era pastime, and the corporate board room. This somewhat inconspicuous stage-setter — the table — invites, levels, 'civilizes', or entraps. In Play Room, the table delivers board- and card-games, whose rules and mechanics are designed to examine a series of contemporary topics in architecture: starchitects, gentrifcation, and urban development" violence and the abstractions with which historical complexity is sanitized and made palatable" markets for architecture portfolio prep schools" the entangled and multifarious identity of the contemporary global subject" and experiments with collectivity and control. Come engage in these games with us. In Play Room we will contemplate their topics together through play.
Game creators
Ryan Clement
Trevor Herman Hilker
Ana McIntosh
Jie Wu
Cloe Yun Wang
Daisy Ziyan Zhang
Rodrigo Escandón Cesarman
Ingrid Roede
Melissa Gutierrez Soto
Nof Nathansohn
Nitzan Zilberman
Sydney Cinalli
Stratton Coffman
Sarah Wagner
Nare Filiposyan
Katharine Kettner
Jinyoung Sim

Exhibition support
MIT CAST
Arts at MIT
MIT Department of Architecture

Exhibition team
Trevor Herman Hilker
Jeffrey Landman
Ana Miljacki
Jie Wu
Ana McIntosh

Special thanks
Jung Seo
James Harrington
Jennifer O'Brien
Jayson Kim
Amanda Moore
CoC
David Brown (03/12/21)
David Brown is the Artistic Director of the 2021 Chicago Architecture Biennial. Brown is a Chicago-based designer, researcher, and educator. His project The Available City has had a few iterations since he first began working on it for the Venice Biennale in 2012, it has been exhibited at the Chicago Cultural Center's Expo 72 (2013), the Chicago Architecture Biennial (2015), received a grant from the Graham Foundation in 2011. He is the author of Noise Orders: Jazz, Improvisation, and Architecture with the University of Minnesota Press, 2006, and of a number of other articles on improvisation and the " available city." David has taught at Florida A&M, at Rice University and is currently a Professor in the School of Architecture at the University of Illinois at Chicago (UIC).
Click here for more Conversations on Care
Workshop
Object Lessons in Collective Repair
Object Lessons in Collective Repair with and at MARQ, School of Architecture at Pontificia Universidad Católica de Chile. At the invitation of Alejandra Celedón Forester Director of MARQ, Ana Miljački worked with Alejandra Celedón, Patricio Mardones, Bárbara Rozas, Nicolás Navarrete to deliver a four week-long workshop.
Inaugural Studio Local Team
Teachers: Alejandra Celedón, Patricio Mardones
TAs: Bárbara Rozas, Nicolás Navarrete
Invited Critics: Enrique Walker (GSAPP), Nicolás Maturana (Arcada), Cristián Izquierdo (MARQ)
Student Participants
Damián Castro
Sergio Fuenzalida
Christopher Caro
Nicolás Chekal
Tomás Gonzáles
Danae Sillard
Montserrat Martínez
Matías Reyes
Victoria Arancibia
Vicente Osorio
Daniel Saenz

Florencia Noguera
Hernan Sanchez
Juan Concha
Enrique Meñique
Valentina Valdebenito
Catalina Saavedra
Catherine López
Francisca Torres
José Meza
Florencia García
Antonia Ocares
Rodrigo Vesperinas
Francisca Kassis

Cristián Valdés
Isidora Elton
Josefina Caram
Rocio Marin
Jose Pedro Ramirez
Hugo Galvez
Constanza Arenas
Catalina Bascuñán
Rodrigo del Campo
Francisco Galindo
Florencia Villalón
Florencia De la Maza